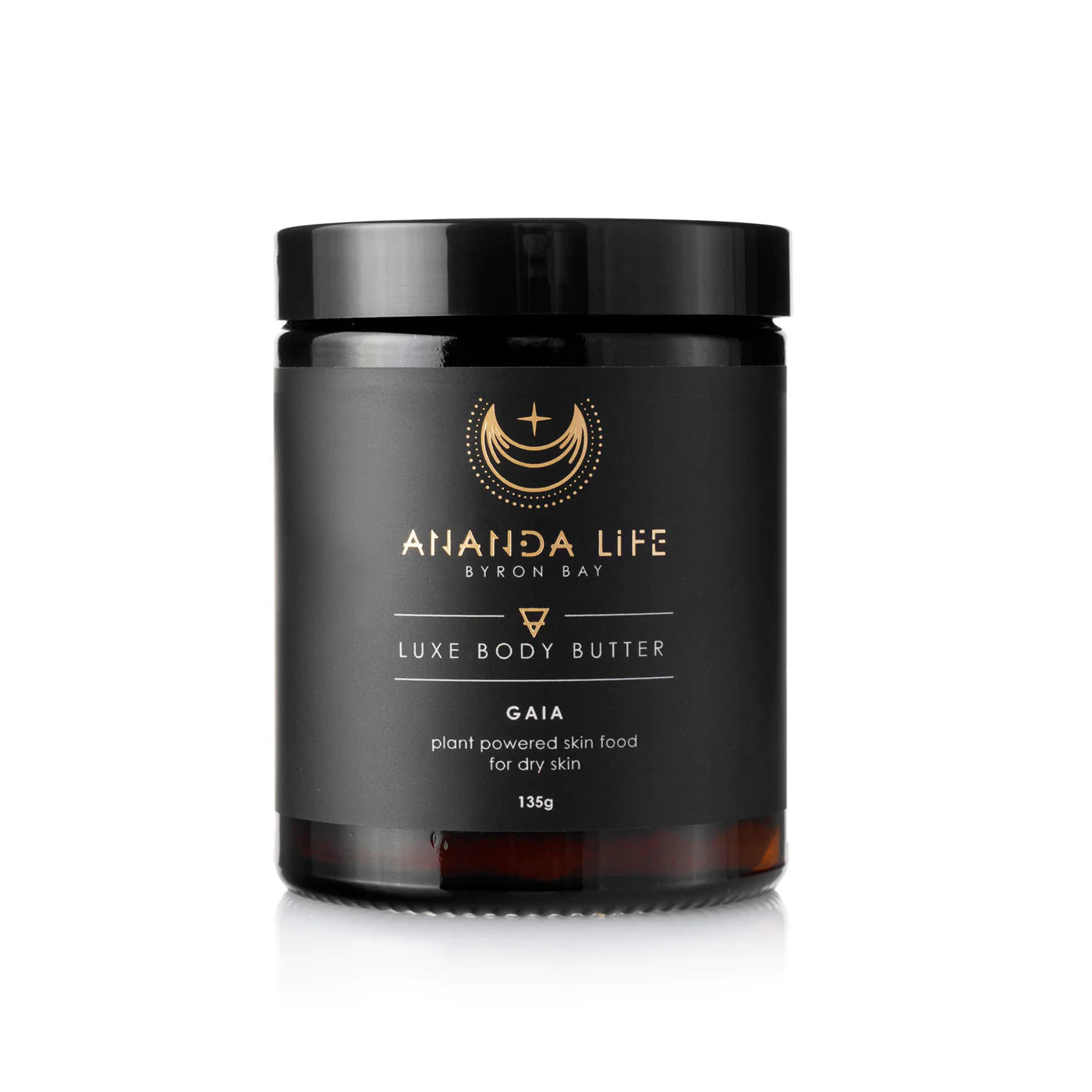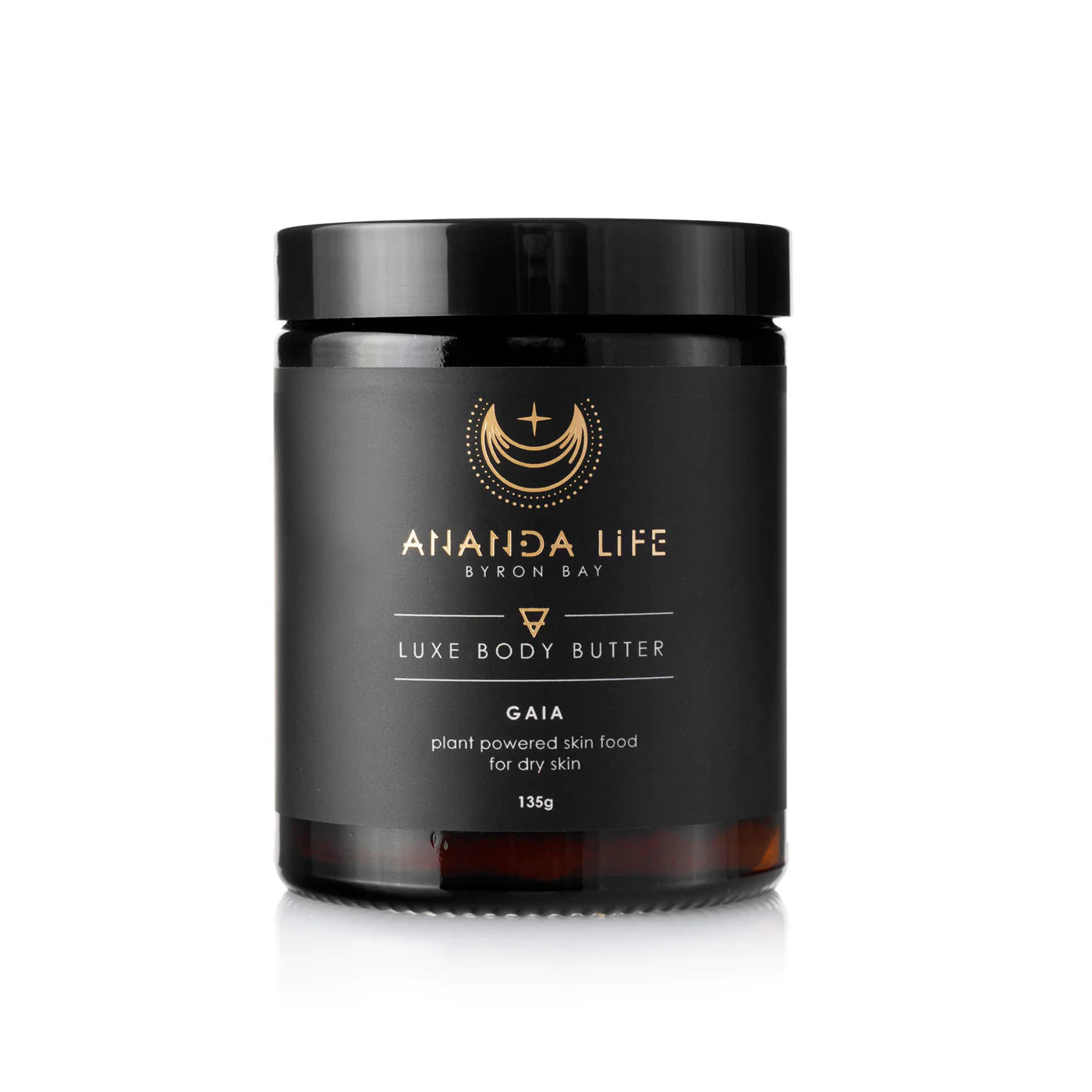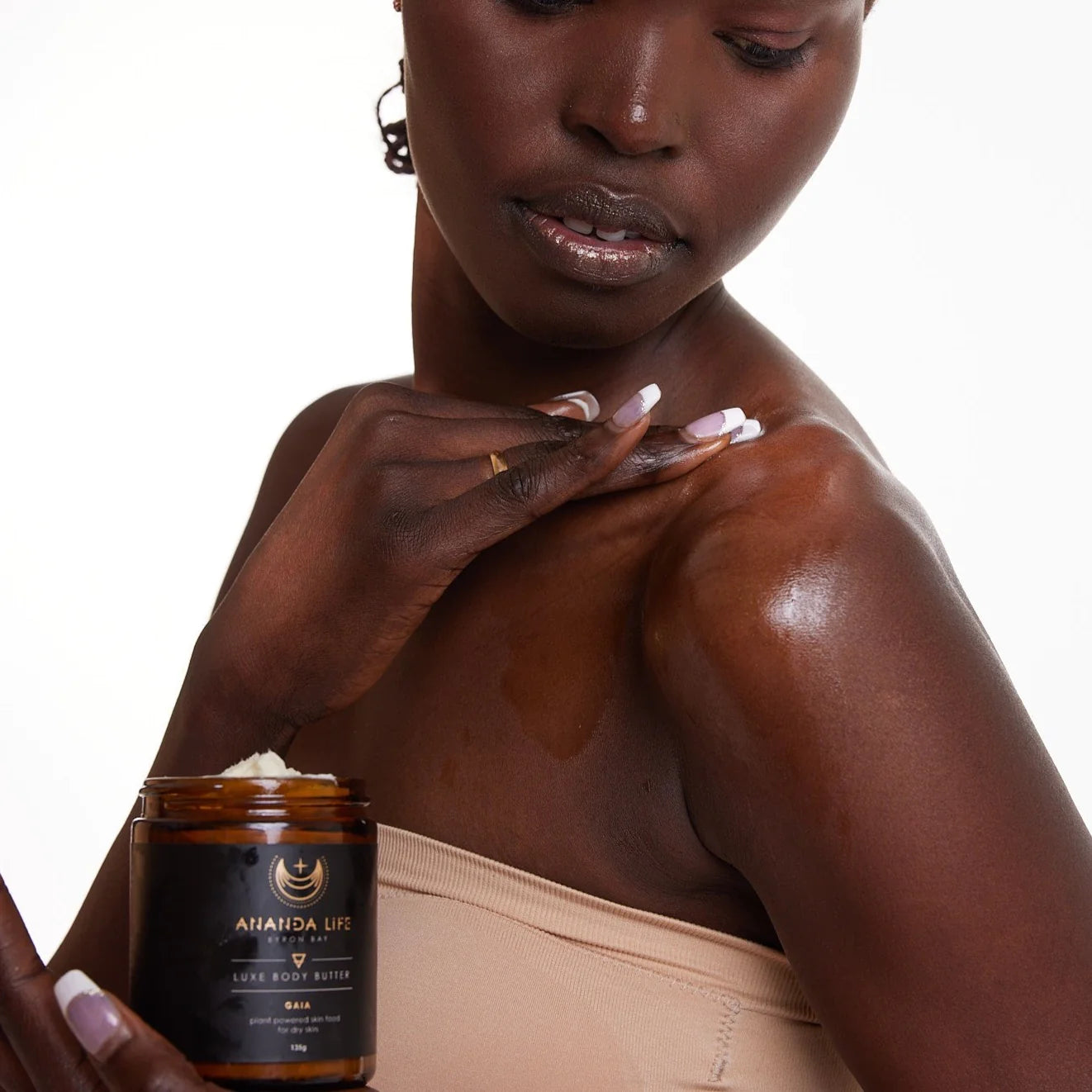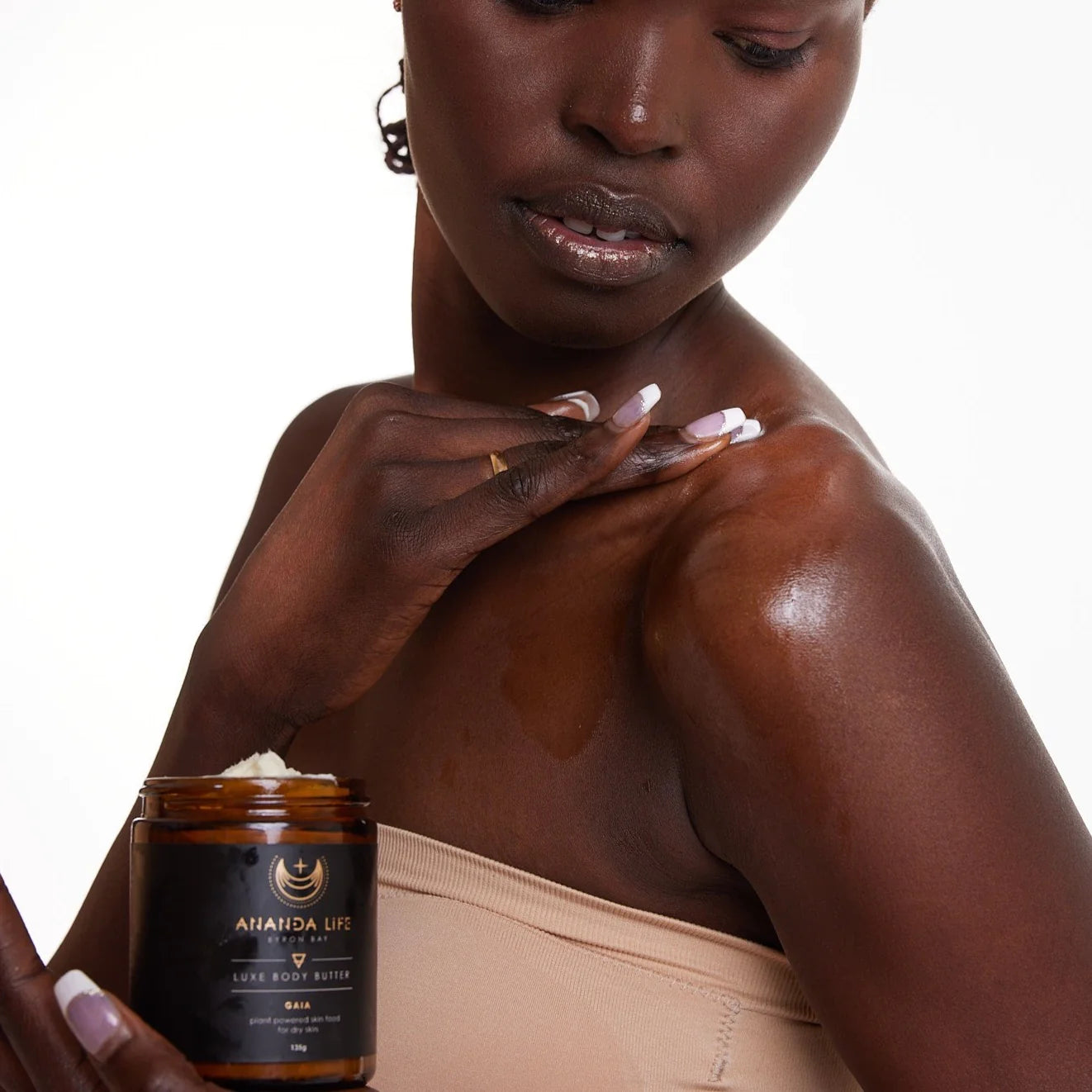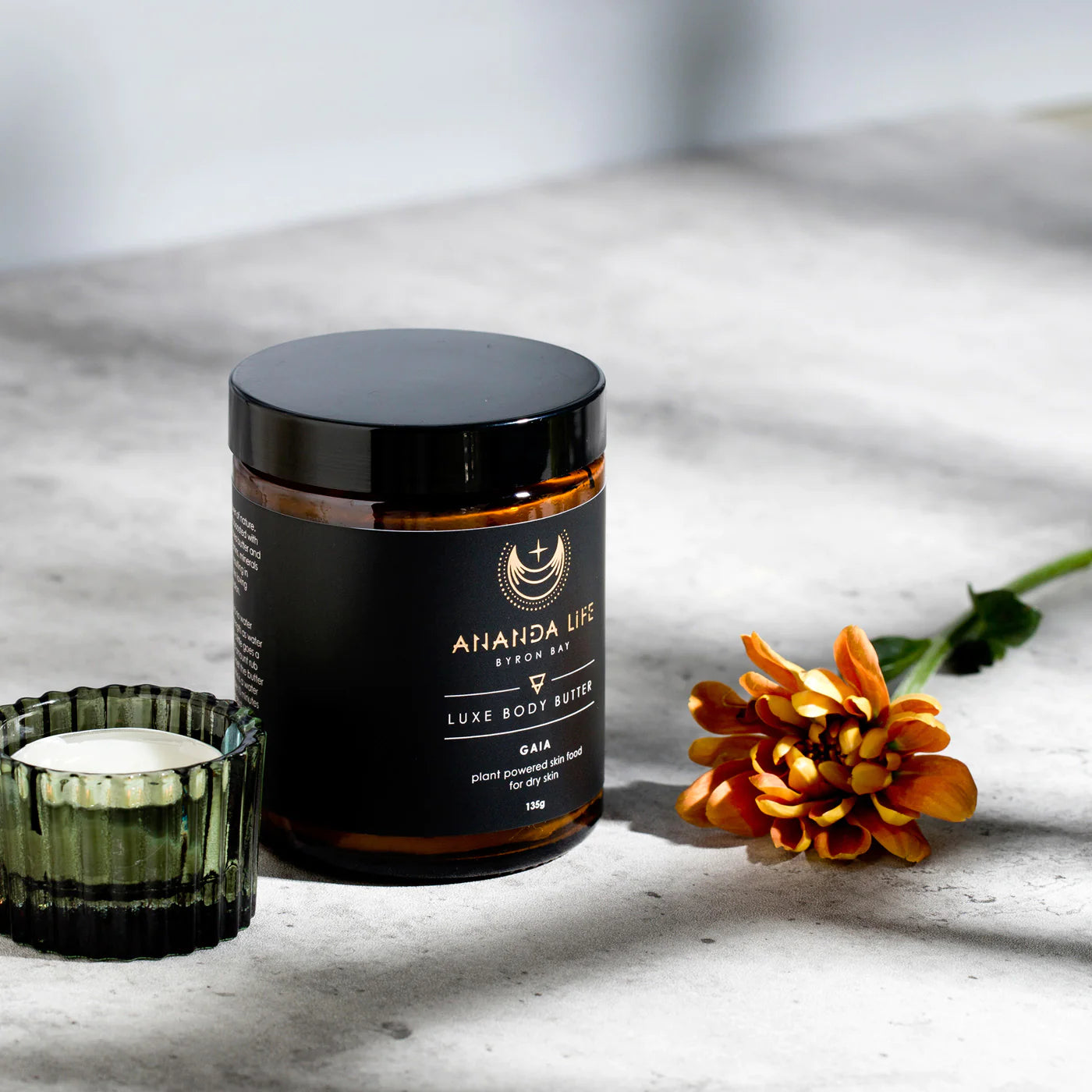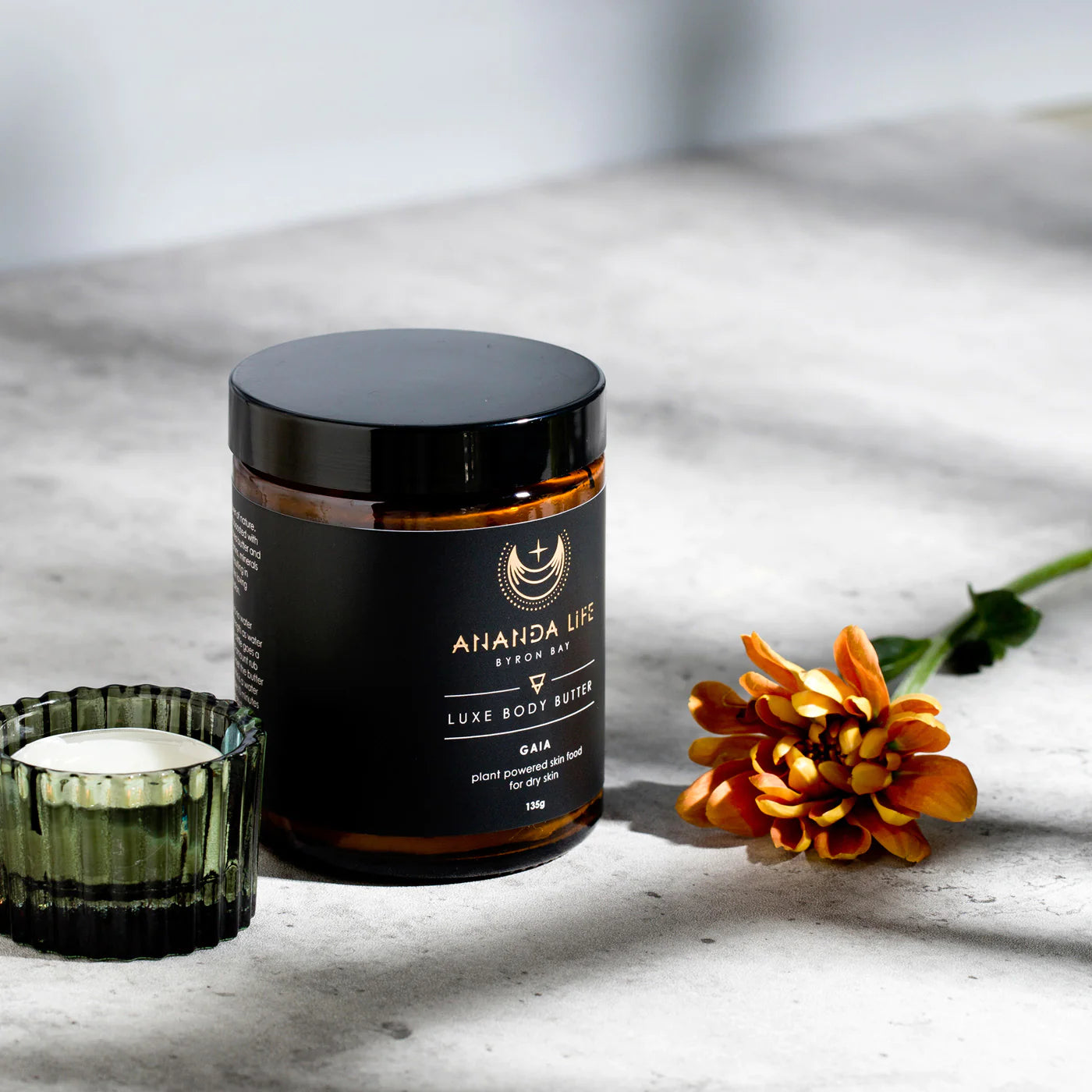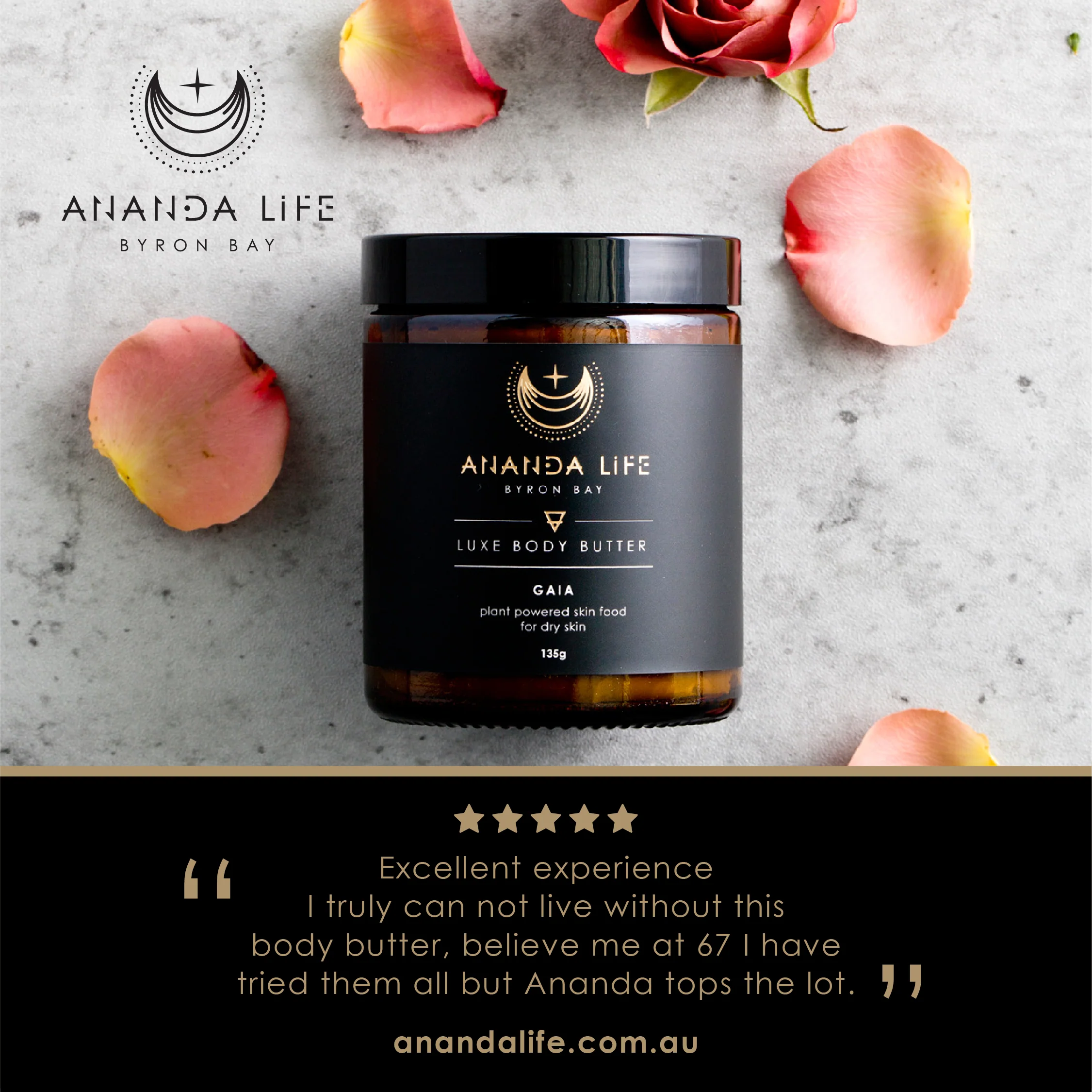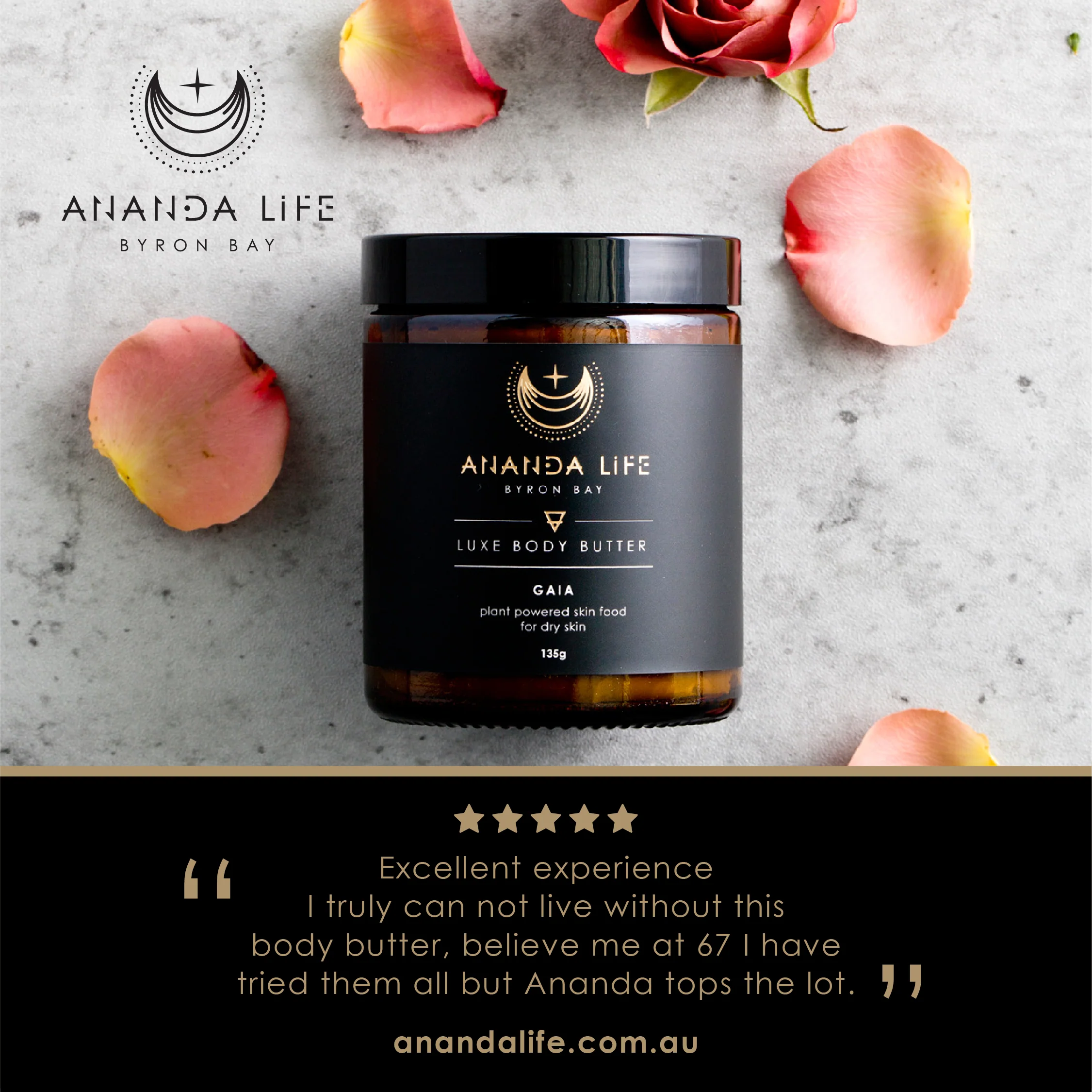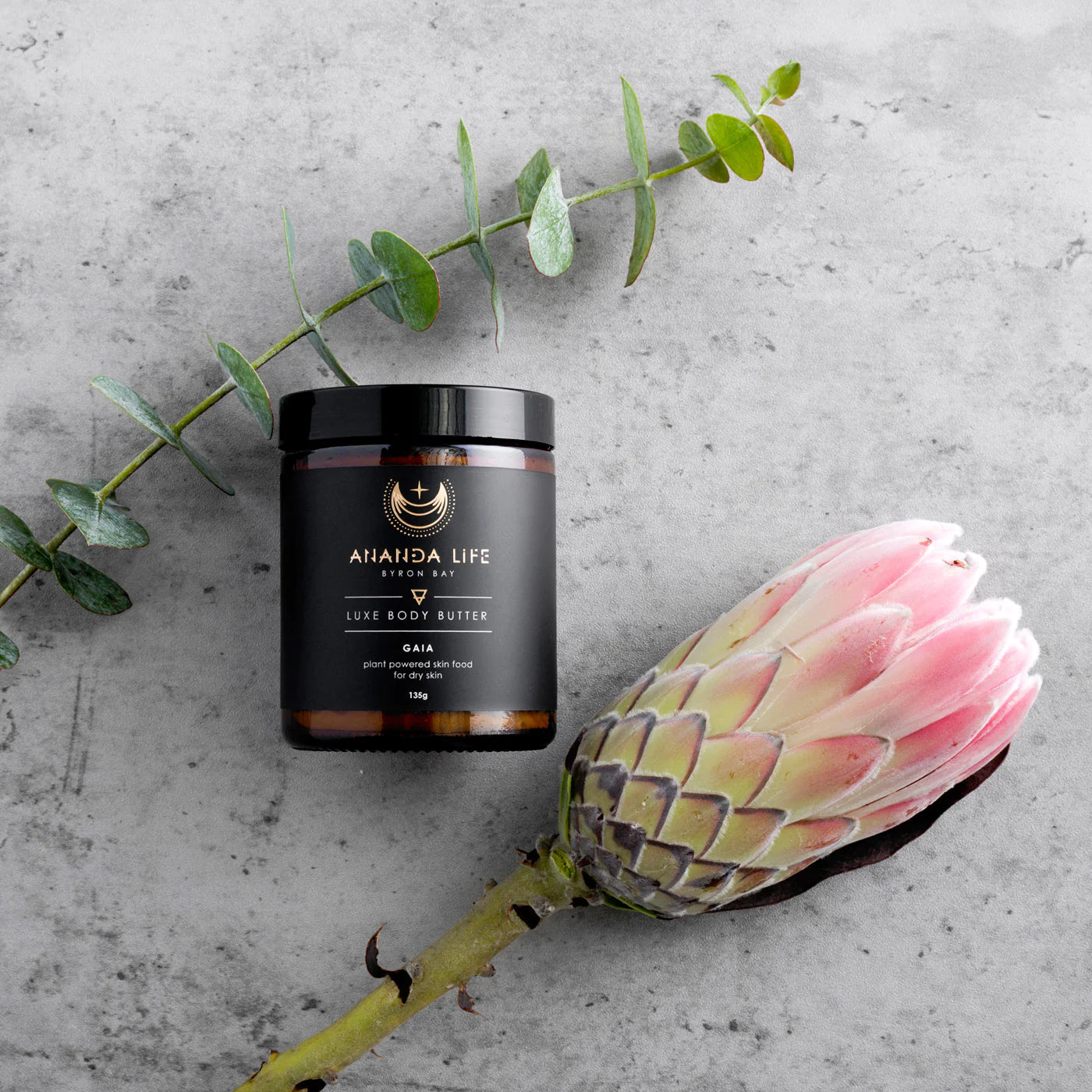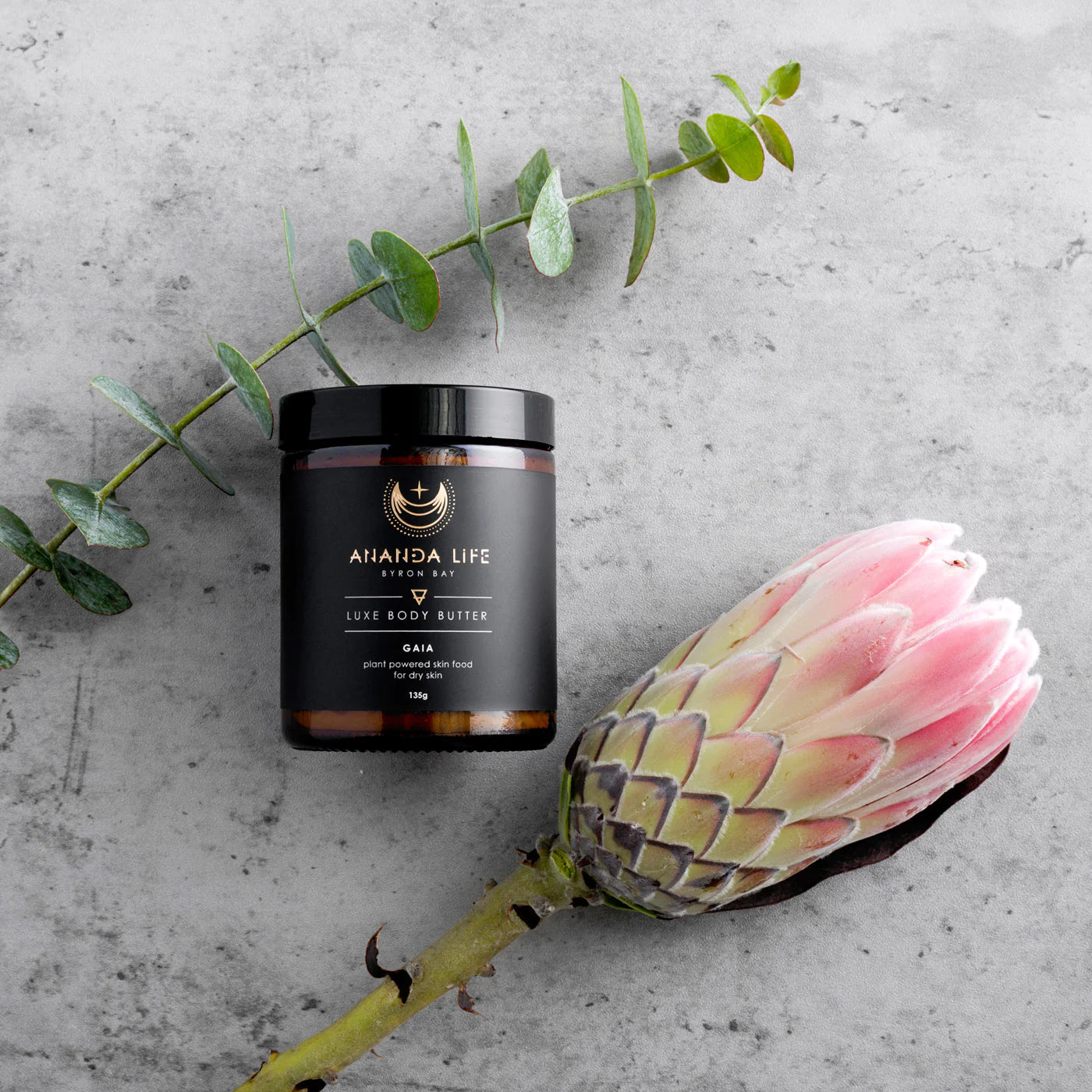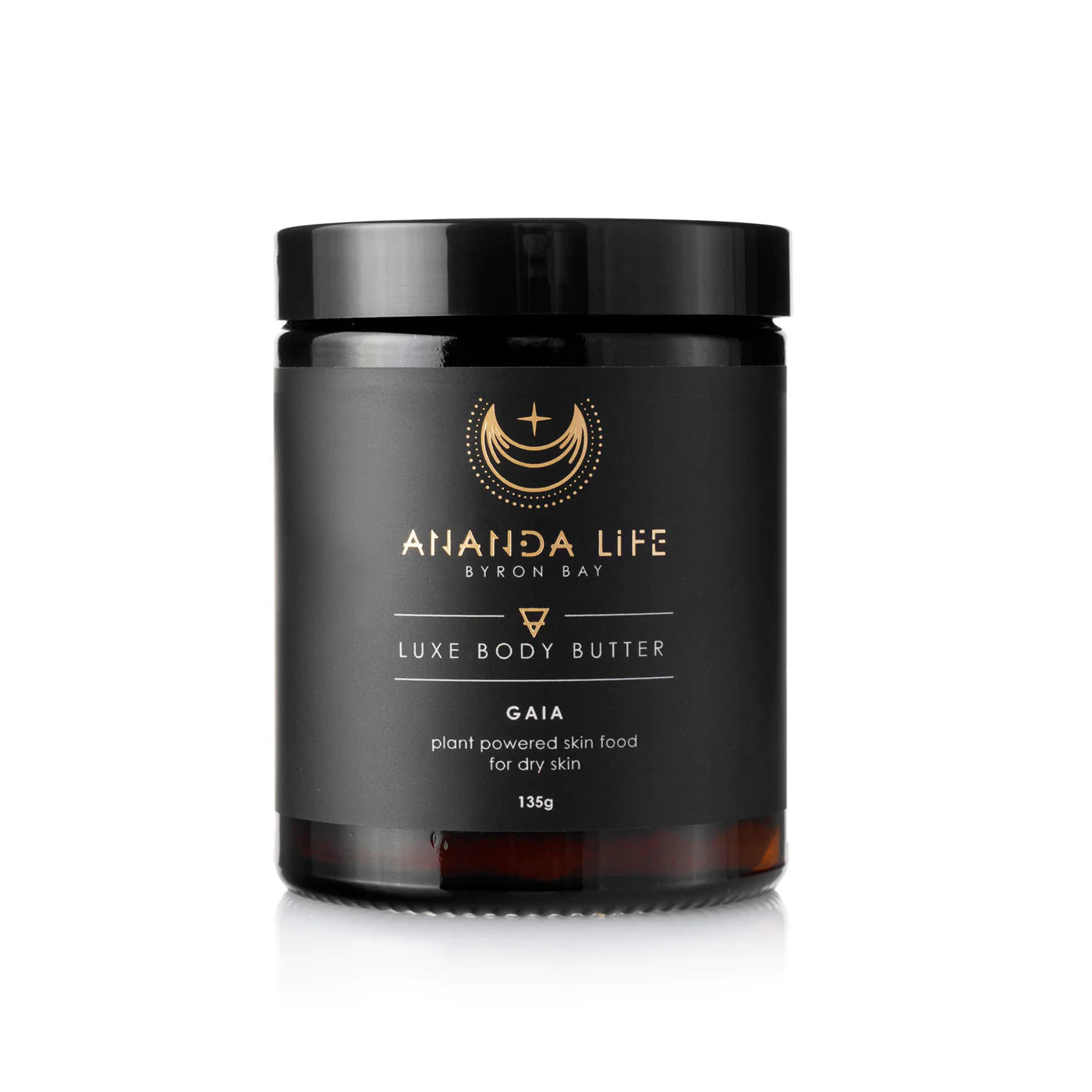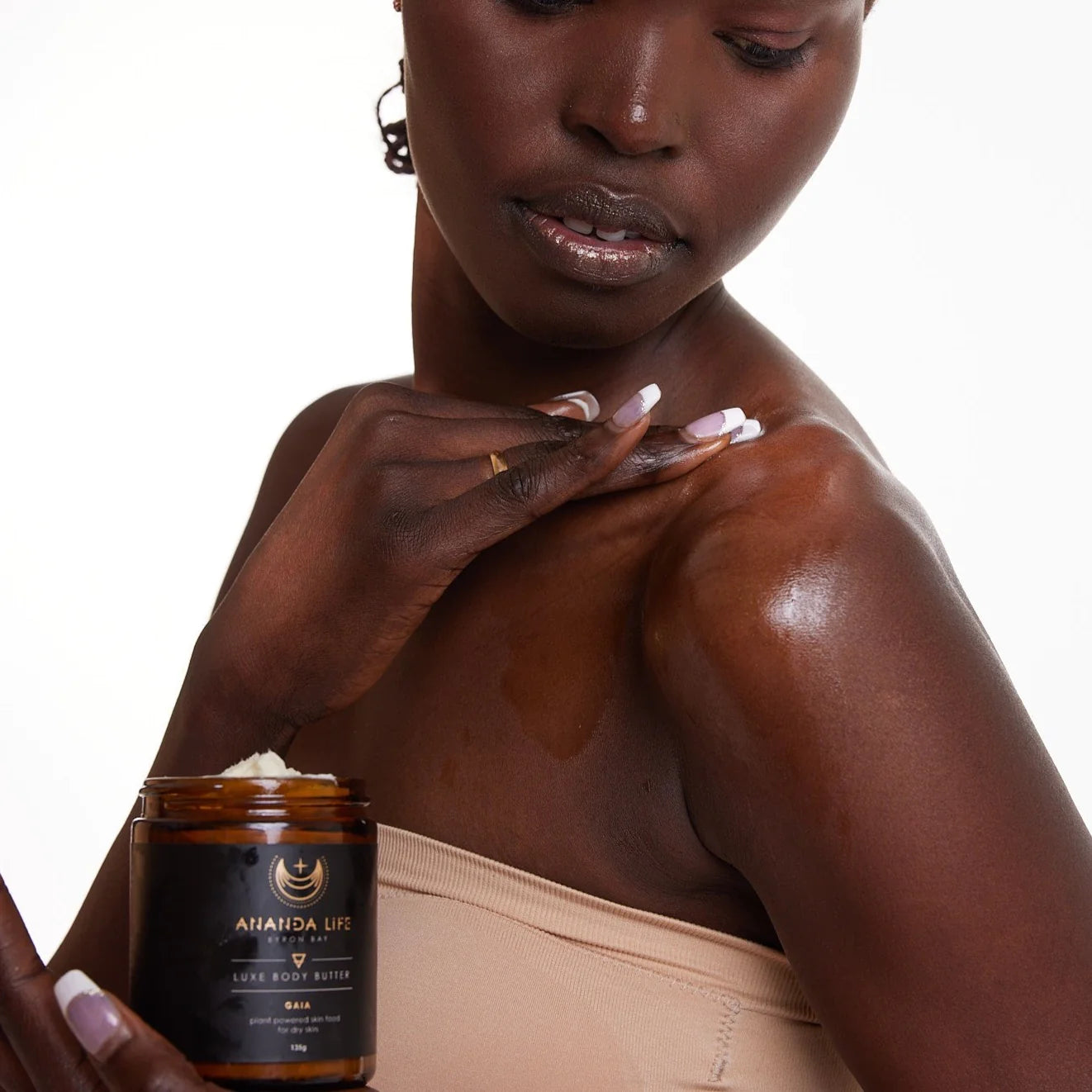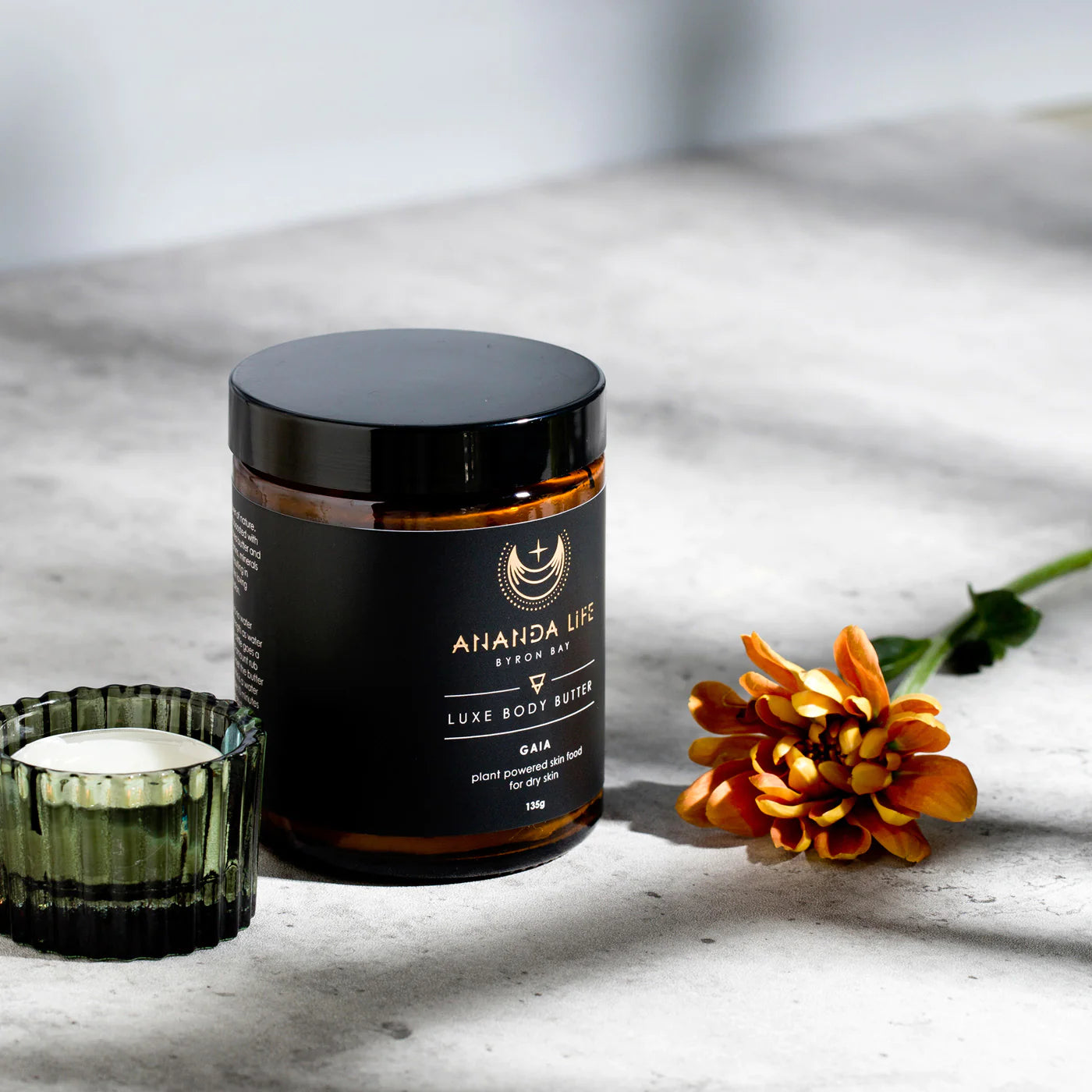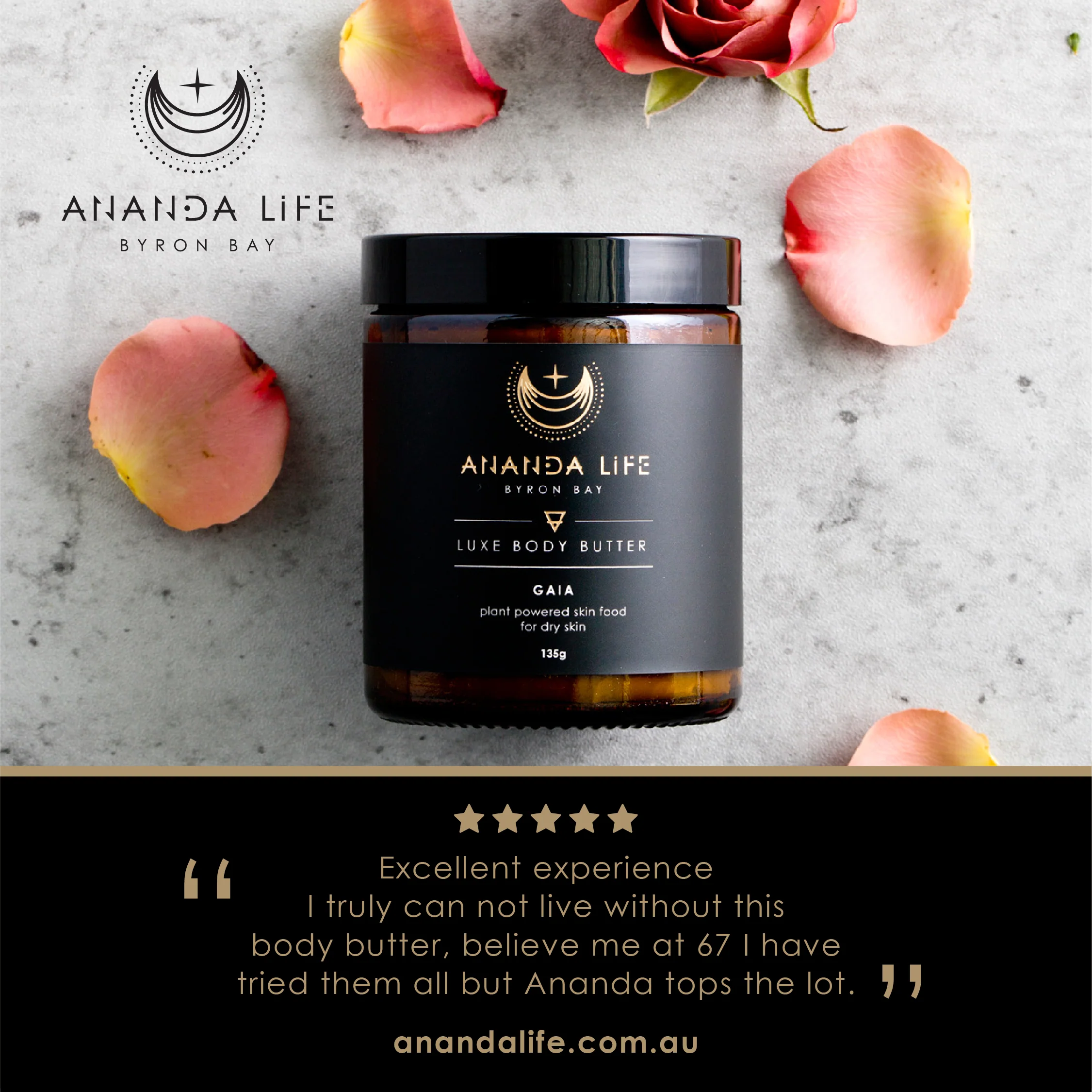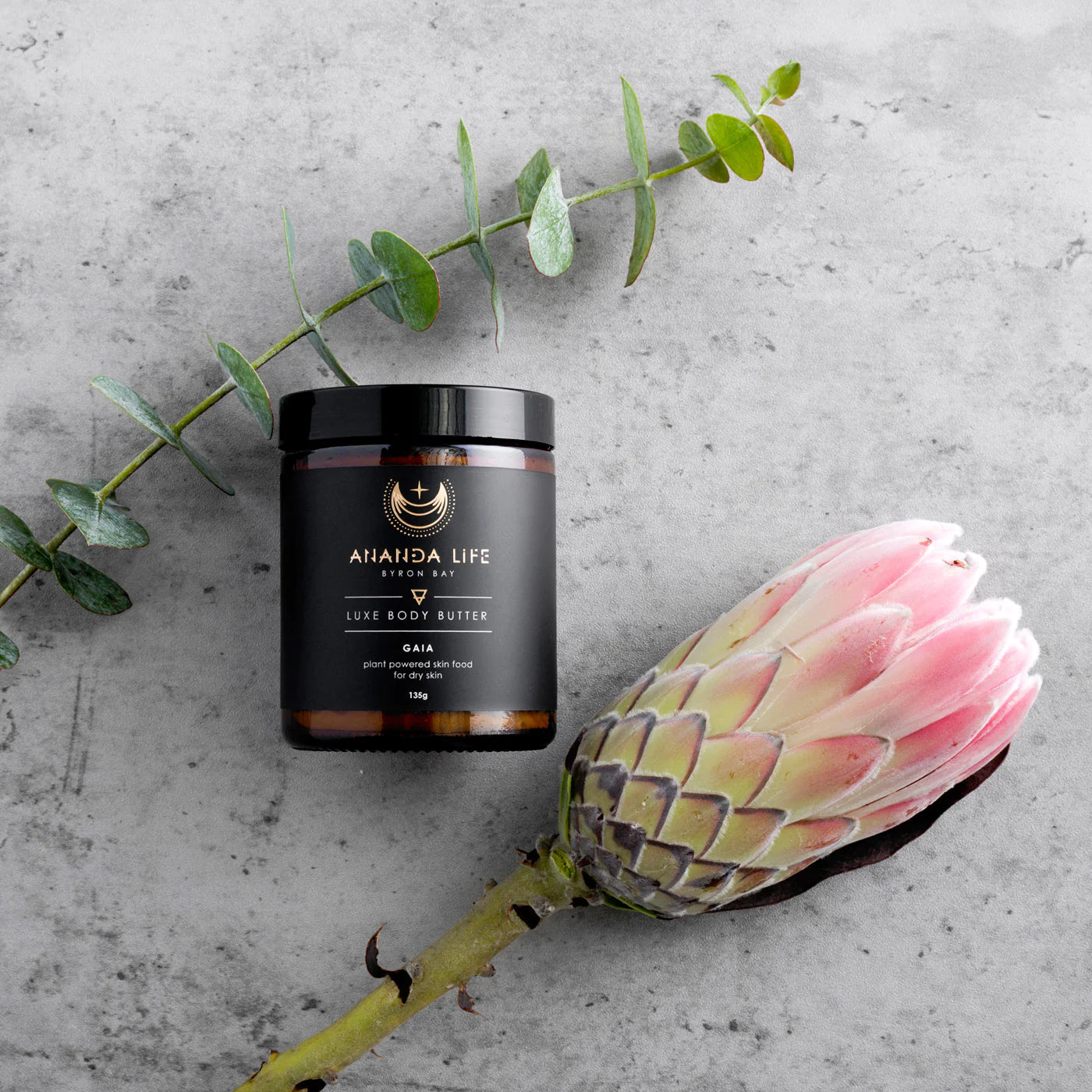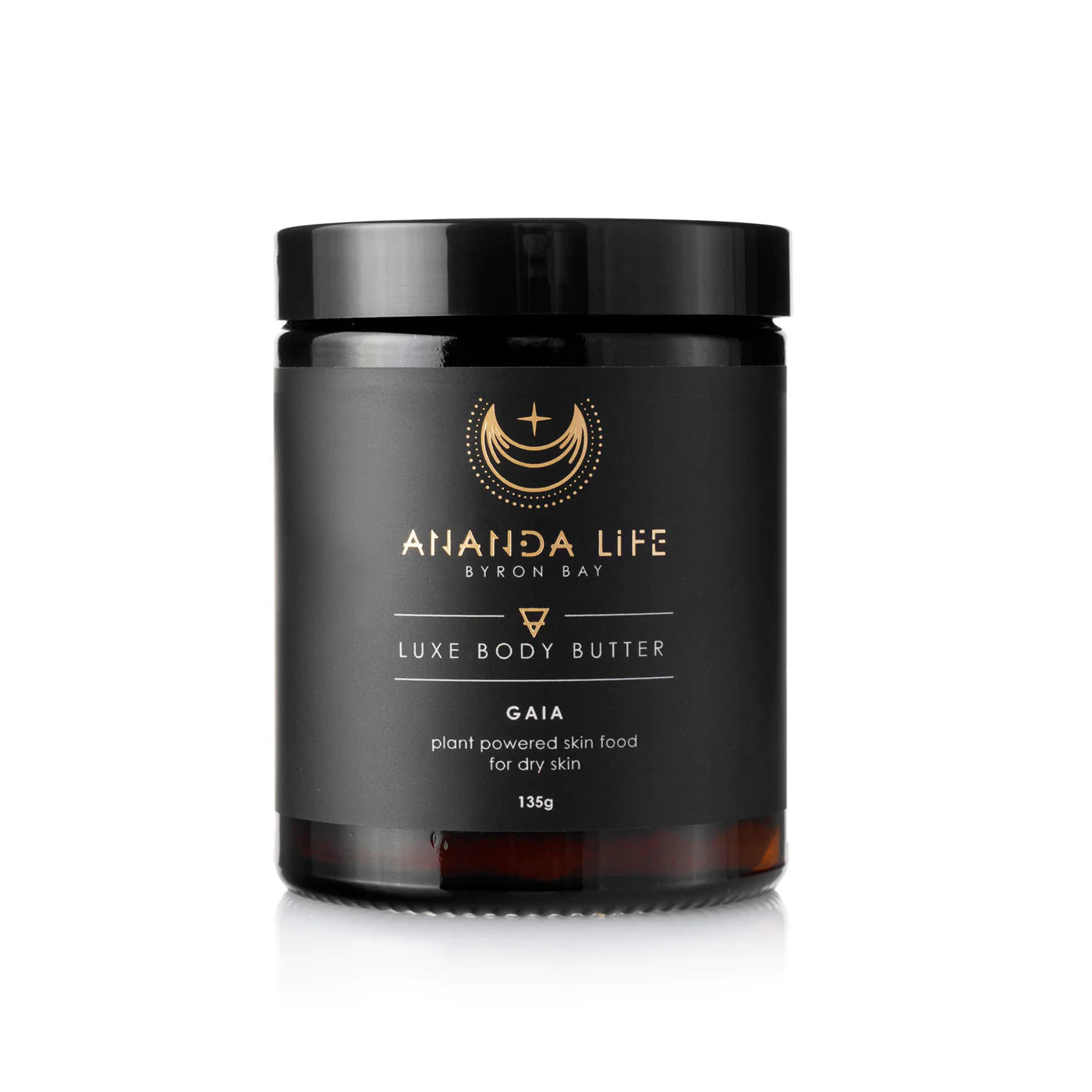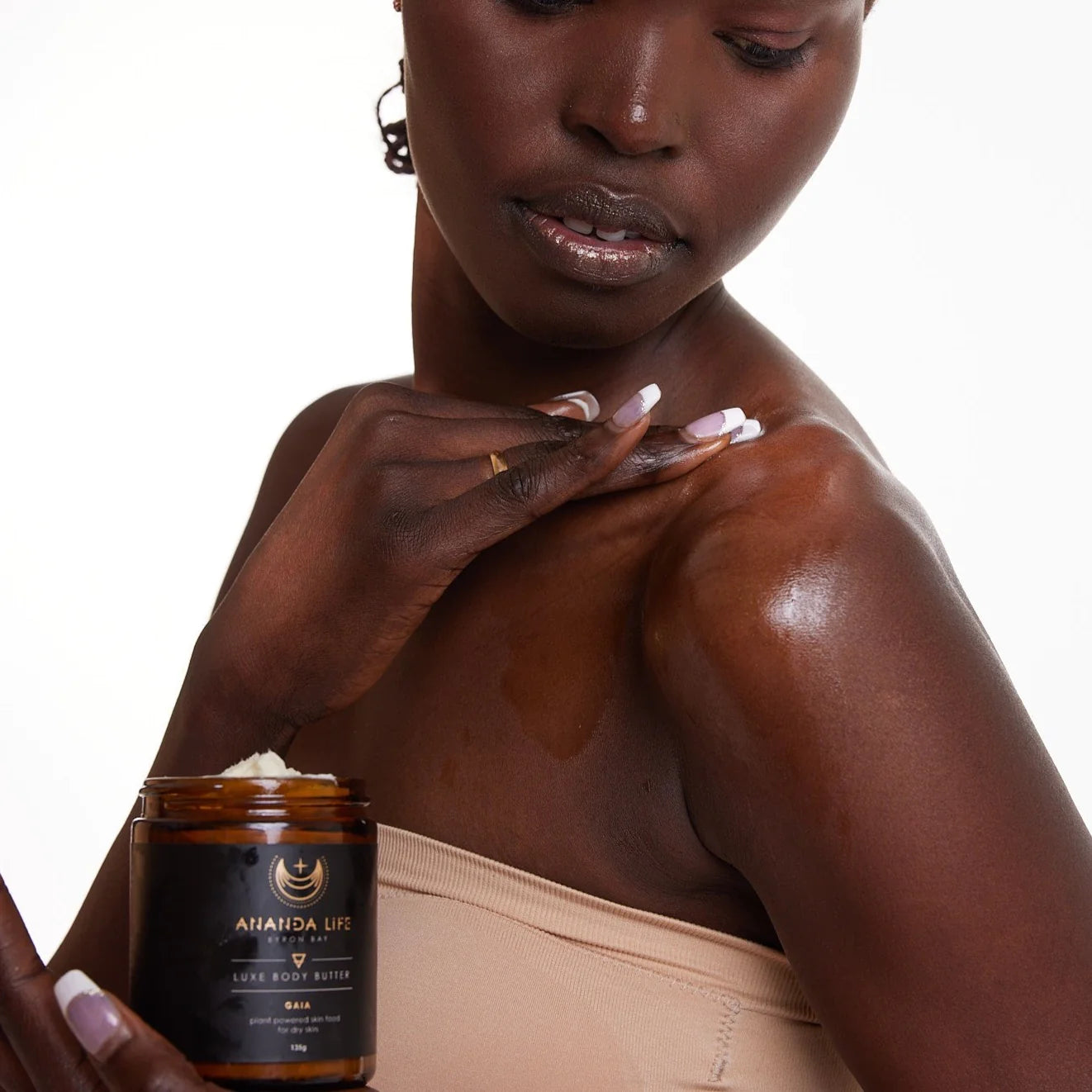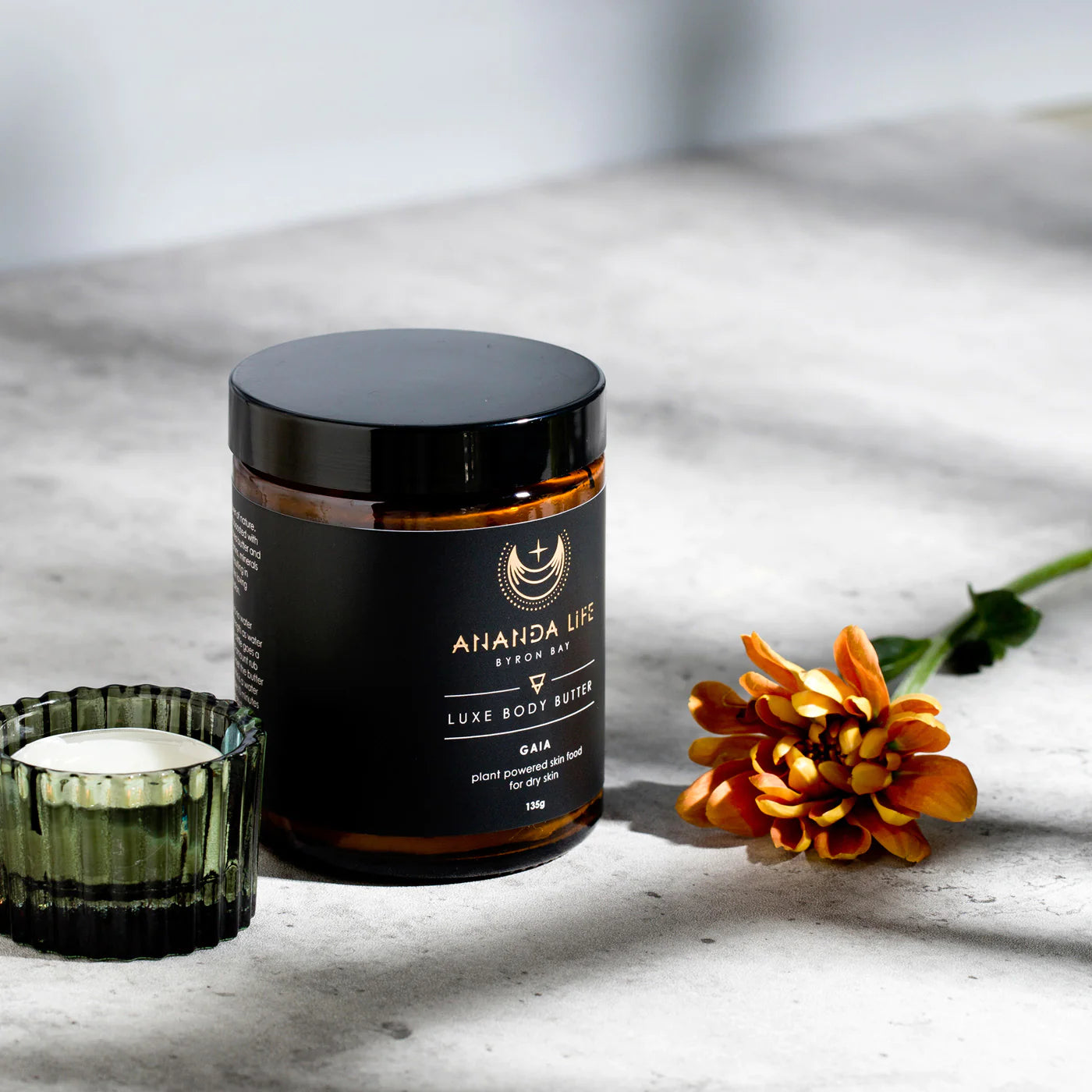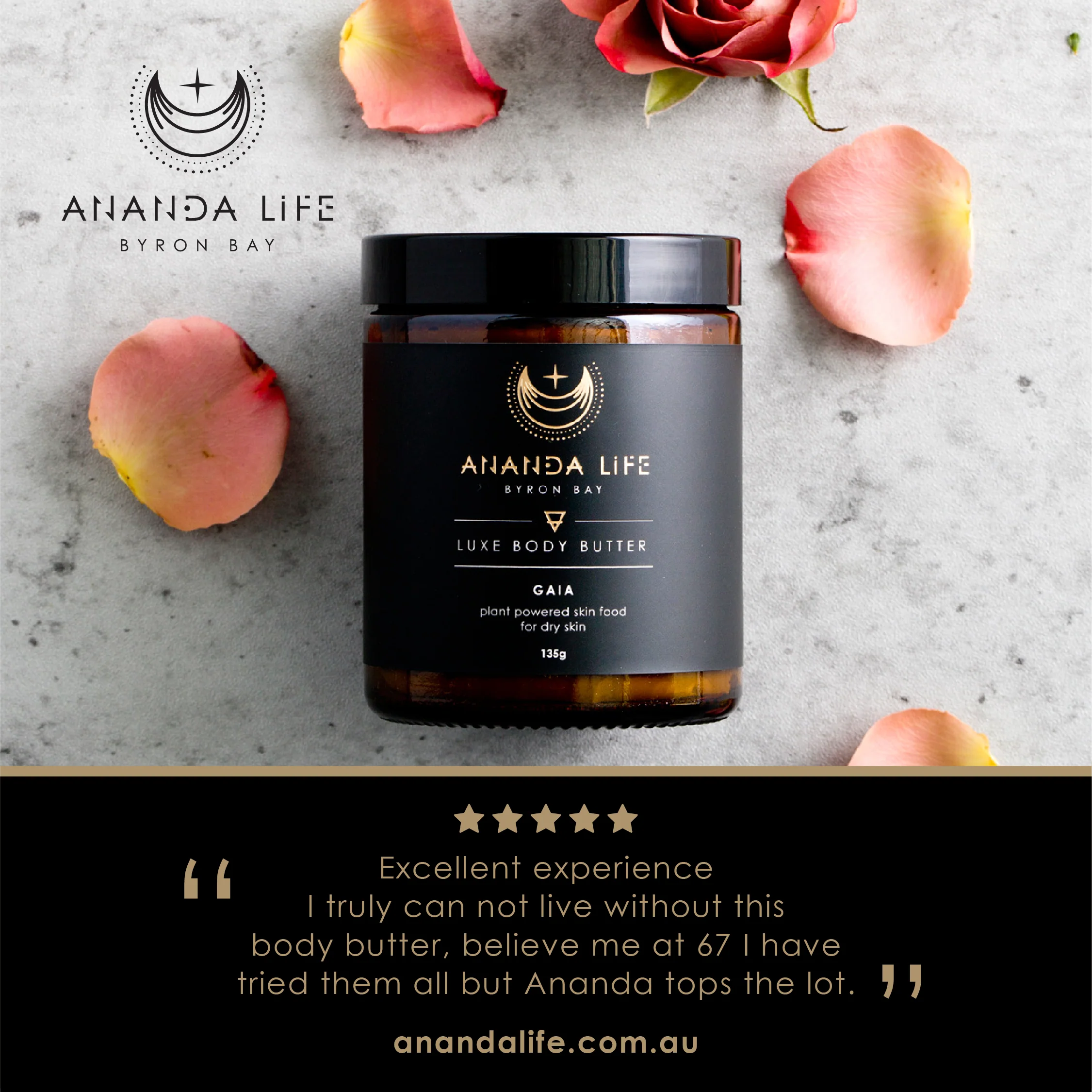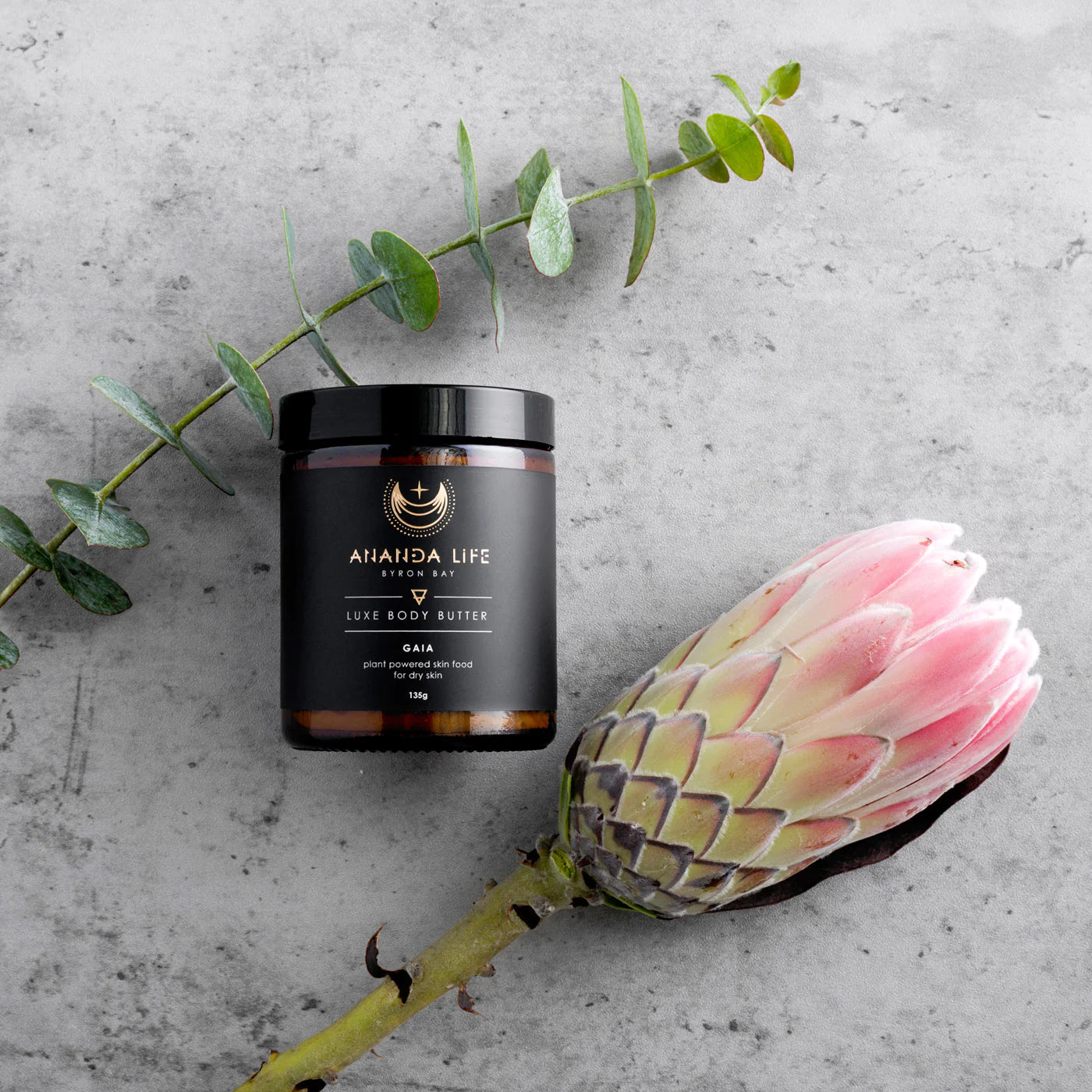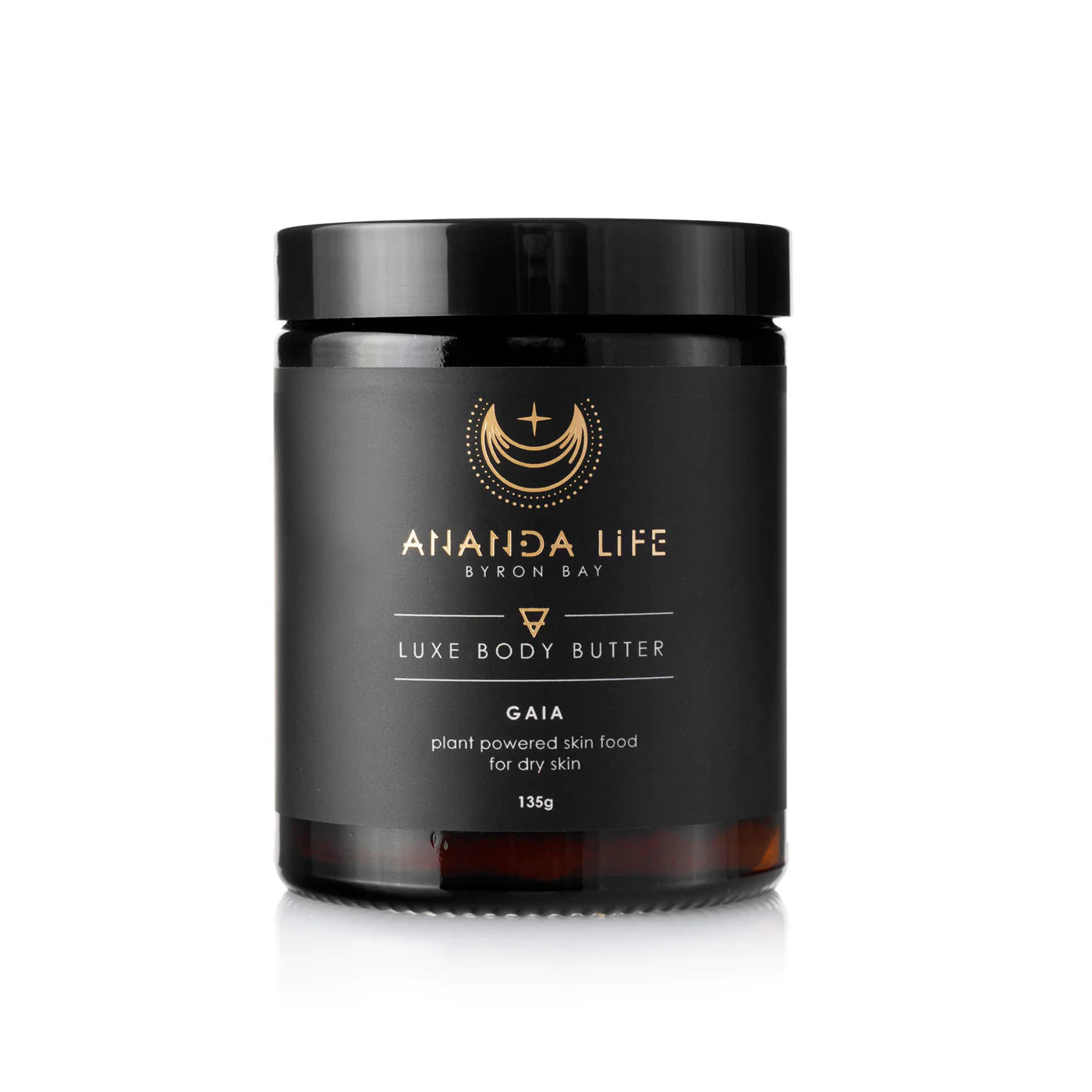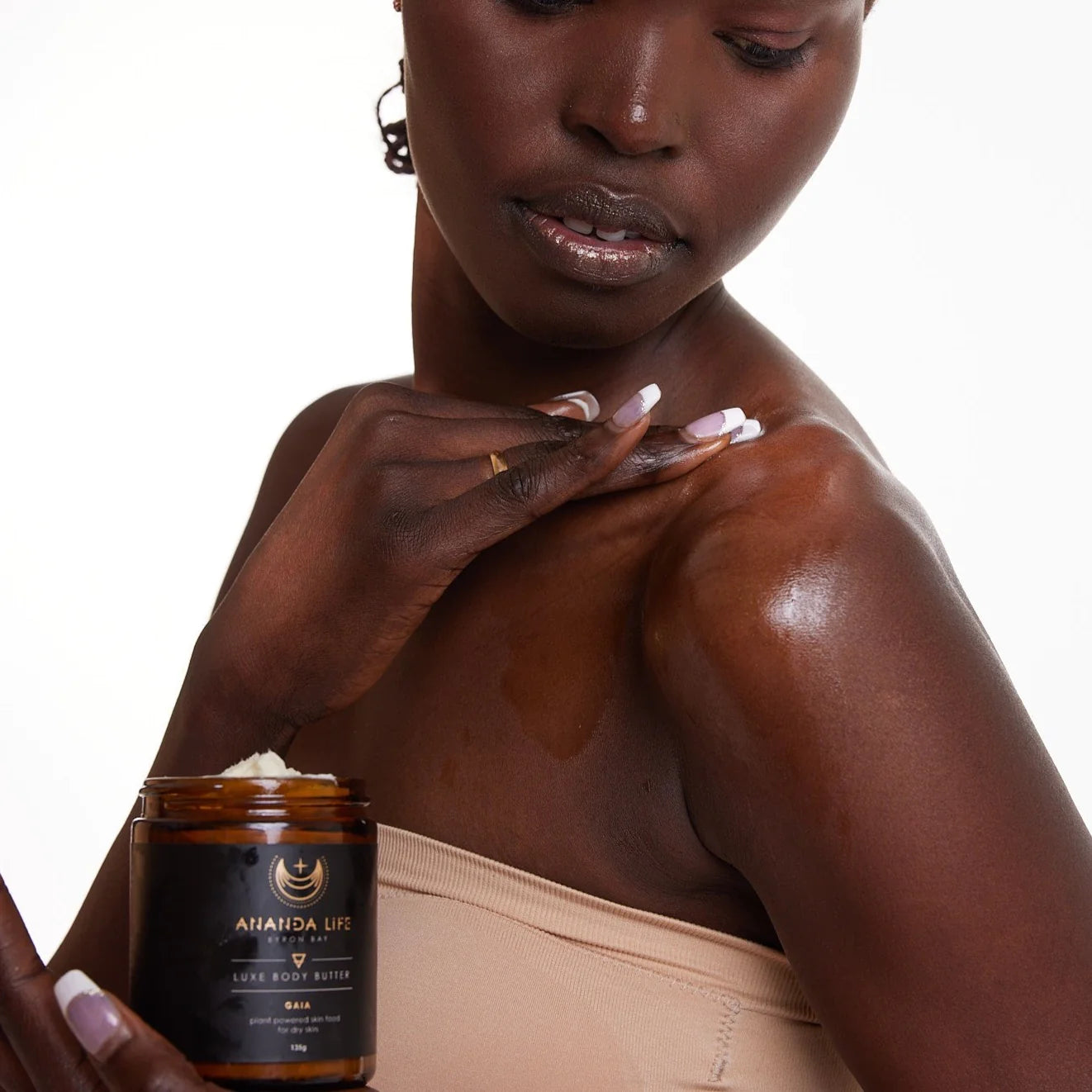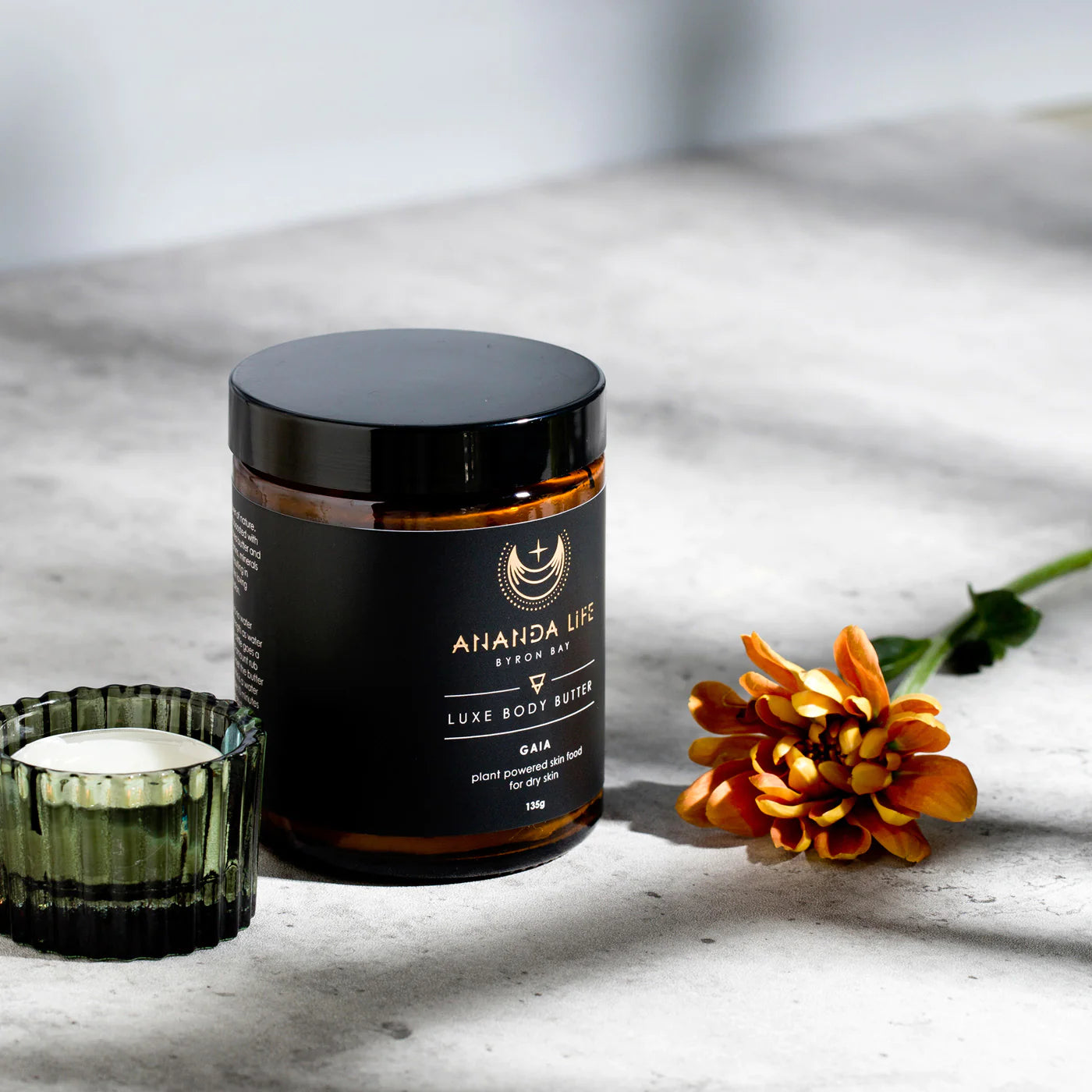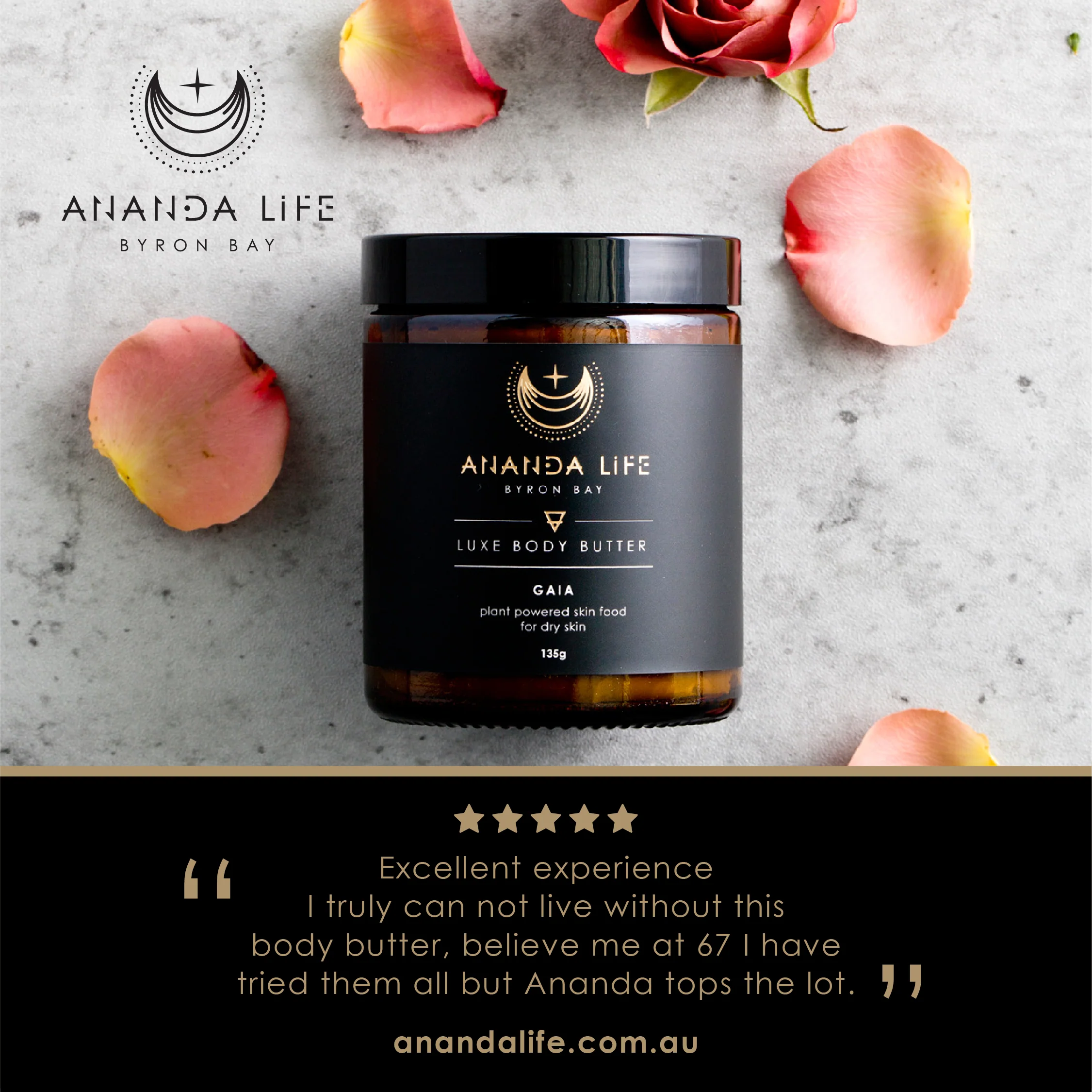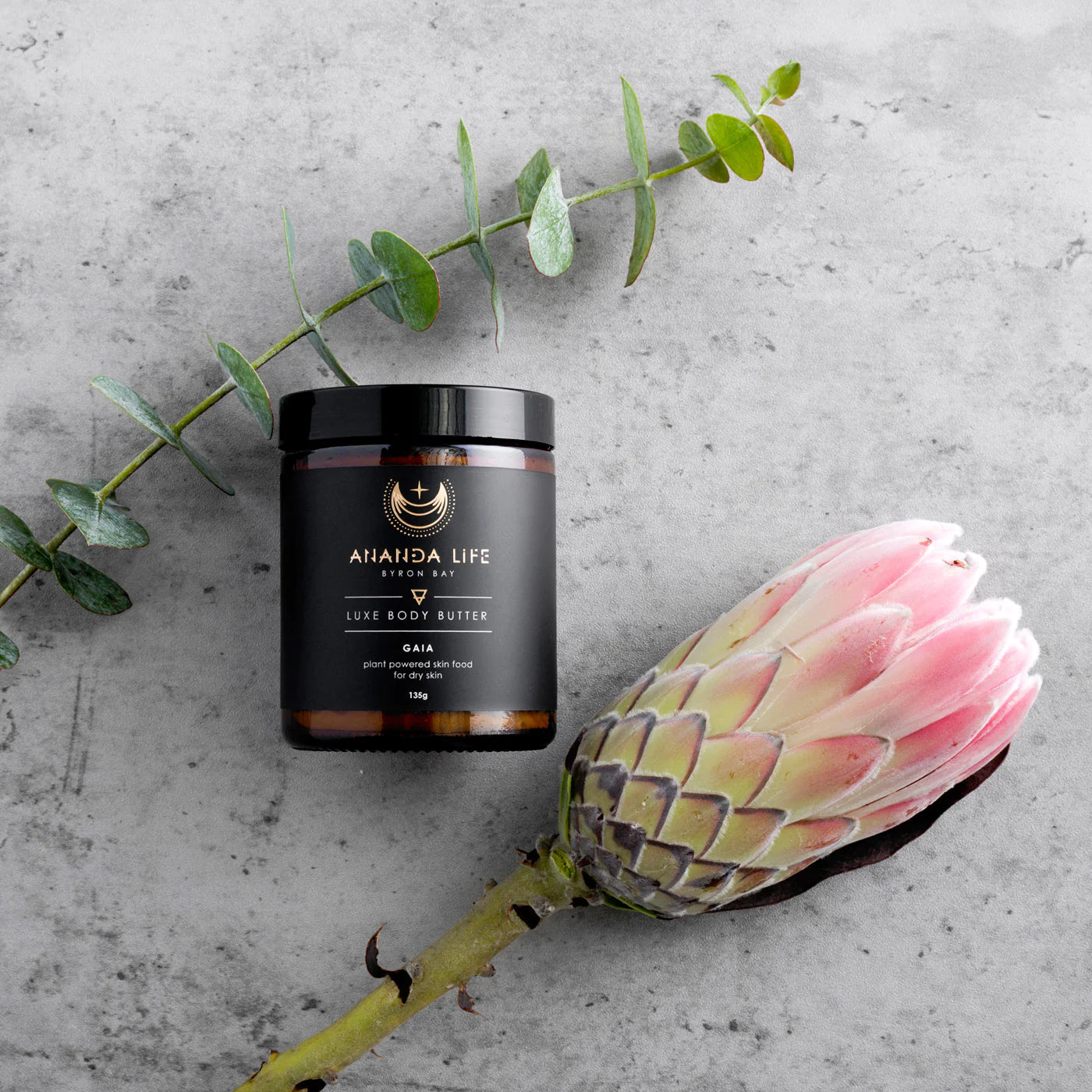 Ananda life - Luxe Body Butter Gaia
Gaia is not your ordinary body butter this formula is pure plant powered skin food!
Our body butter is made from the most pure, organic, natural and unrefined ingredients available to nourish your skin from top to toe, with absolutely NO harmful preservatives or toxic additives. 
The new champion of anti aging skin care, Cacay oil is added into the formulation for its 
high amount of natural Retinol, which is a component known to reduce wrinkles and even out skin tone.
Gaia has a citrus top note which fades to a balance of woody essential oils including rosewood, patchouli and frankincense, resulting in a light, rosey, earthy feminine scent.
This product contains no water, which is the reason we don't have to use preservatives.
Most Products will list water as their first ingredient with most creams are between 50-80% water. With water comes the need for artificial emulsifiers, thickeners and preservatives all of which can be harmful to your system.
Our body butter is around 5 times the concentration of a water containing cream, making it very economical as you need to use a much smaller amount!
All together this body butter ticks all the boxes for the most natural skin food achievable.
Directions Of Use
Take a small amount, rub and warm between your hands to melt the butter then apply to skin. As this is a water free product it may take 10 minutes to soak into your skin, trust us it's worth the wait!
This is an organic and preservative free formula.

Ingredients:
•Unrefined Shea butter
•Organic coconut oil
•Organic Jojoba oil
•Sweet almond oil
•Wild harvested cold pressed Cacay oil
•Vitamin E
•Essential oils of sweet orange, rosewood, patchouli & frankincense.

Cautions
Store in a dry, dark, cool place below 30 °C and out of direct sunlight.
We want you to be completely happy with your online purchase from Pastel.
FREE RETURNS - Australia Only
We offer free returns for a store credit or exchange only, unless stated otherwise on our website during a promotional period where refunds may be offered.
To be eligible for free returns:
You must contact us within 14 days of placing your order with us.
All items must be in the original condition they were sent, with all tags in place, unworn and unwashed. 
Once you have chosen a store credit or exchange, we will supply you with a free return shipping label for Australia Post.
Due to the popularity of some of our collections we cannot guarantee we will have the exchange request in stock. If you are afraid of missing out, please send us an email and we can send you a code for free shipping so you can place a separate order and request a refund for your initial purchase.
If you are requesting an exchange that is out of stock, you will be issued with a store credit.
We only offer one free exchange, after that shipping will be charged at the expense of the customer.
Swimwear bottoms can't be exchanged due to hygiene reasons.
Free Returns does not apply to any sale items or promotional items.
Full Price Items only
Click here to read more about refunds, sale items and overseas orders.
Please email us if you have any questions or would like to arrange a return.